Mother's Day pressie with difference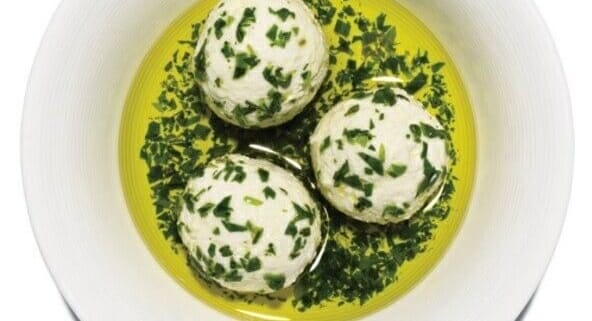 Now's the time we face that age-old, almost impossible to answer question … 'What do I get mum for Mother's Day?… Chocolates? Flowers? Or what about a skydiving voucher, she'd love that, right? Don't worry, this year we've got the perfect gift idea …
As a family of foodies, we love making our own edible gifts. Last Christmas, Gordon found a fantastic Nadia Lim recipe for labneh – a very moreish yogurt cheese. He whipped up a batch for his Secret Santa present and it went down an absolute treat. It was so good he's been making it ever since!
So, why not try this really easy-to-follow recipe and make your own pressie with a difference this Mother's Day. Here's how you do it:
Ingredients:
2 cups Buffalo yoghurt, Greek yoghurt or another unsweetened full-cream yoghurt
Tip: make sure you use natural full-cream yoghurt. Low-fat yoghurt won't work.
1 small finely crushed clove of garlic
¼ teaspoon salt
¾ cup finely chopped herbs fresh herbs. You can use any herbs you like – parsley, chives and marjoram work well.
Method:
1. Place a fine sieve over a bowl or line a colander with muslin or a linen cloth.
2. Put the yoghurt into sieve or colander, cover with clean tea towel and leave to drain in fridge for 2 hours or overnight. Buffalo yoghurt is extra thick so it will need to be pressed to remove some of the liquid (whey).
Tip: The longer you leave yoghurt straining in the fridge, the thicker it will go. This will make it easier to roll into balls
3. Discard the whey. Put the curd into a clean bowl (the curd should be thick and solid enough to be shaped). Add garlic, salt, a grind of pepper and stir. Taste and adjust seasoning if needed. Shape curd into balls.
4. Place chopped herbs on a plate. Roll the balls in herbs.
And that's it!
https://bluecarrot.co.nz/wp-content/uploads/2020/11/Lebneh2.jpg
592
592
Jane Byrne
https://bluecarrot.co.nz/wp-content/uploads/2020/11/blue-carrot-catering-logo.png
Jane Byrne
2020-11-18 13:45:19
2021-05-24 10:09:17
Mother's Day pressie with difference