The summer sun was still high in the sky when our Blue Carrot team got to thinking about new autumn menus . Our regular menu creation is a part of my job that I absolutely love – it's collaborative, creative, and a really tasty process!
So, I thought I'd pull back the curtain and give you all a peek into how we design menus filled with delicious dishes…
Getting inspired
The first thing the chefs and I do is search far and wide for ideas, ideas, and then more ideas.
• We scour food magazines, blogs, websites, and the latest recipe books looking at current food trends – for example vegan options that have less environmental impact are really popular right now. Then we look at how we can take these trends, give them the Blue Carrot twist and incorporate them into our new menus.
The whole Blue Carrot team gets involved.
• We've got a big, food-loving team at Blue Carrot, so we put a call out to all our staff for ideas too.
• And our wonderful clients are a source of inspiration. Because we personalise menus for events, we've come across some really delicious family dishes requested by customers. Some we've loved so much we've put them on our menu. Check out the Cranberry, Chive and Chilly Puffs requested by one of our brides. We now have them on our Autumn Canapé Selection .
Choices
Once we've got a list of ideas, we get down to testing how (and whether) each item will work. And there's a lot to weigh up apart from the taste factor. For example, some items sound amazing on paper but they're not for us because they just won't travel or hold their heat well.
Along with the team from each section – sandwich, sweet, canapés – we think carefully about getting the variety of dishes right. We've got to make sure we don't only include the foods we personally like best (I love dairy!).
We love to be innovative, but don't include the latest flavours in every single dish – that would be a bit much! So, we strike a balance between rich and lighter dishes, new and familiar flavours.
A lot of our customers are in all day meetings so getting that balance right and providing good "brain food" is really important.
And to make sure we don't start a riot, customer favourites like Kransky Sausages wrapped in Parmesan Herb Pastry with Tomato Relish are kept firmly on the menu.
Taste test
I love this part – now our chefs get to work creating the new items and we get to taste the results. Yum!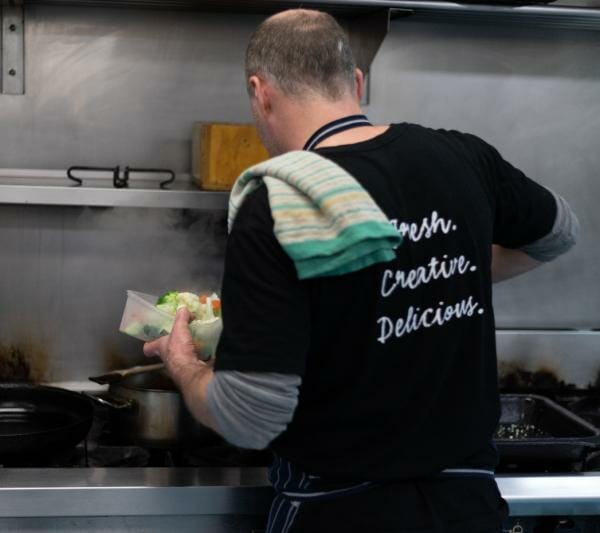 Chef Lawrence testing out a new dish.
Ready to go
The whole process of designing a new menu usually takes about two very busy weeks. It really is satisfying to see it all come together and then watch the new dishes heading out to our hungry customers.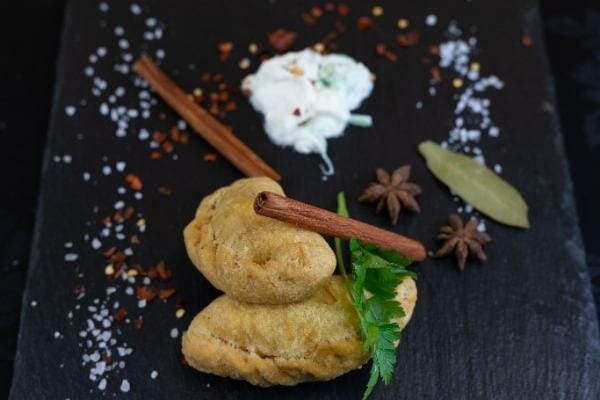 Homemade Vegetable Samosas with Yoghurt Dip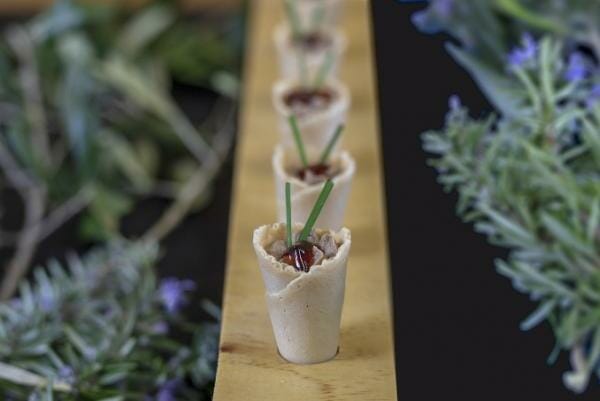 Wafer Cones with Chicken Liver Pate and Quince Jelly
And now you can check out our scrumptious new Autumn Menus right here. I hope you've enjoyed a wee look behind the scenes at Blue Carrot. Next time our wonderful baker Sally is going to share some ideas for Easter treats that'll keep the kids very happy indeed
https://bluecarrot.co.nz/wp-content/uploads/2021/04/Gordon-menu.jpg
628
516
Jane Byrne
https://bluecarrot.co.nz/wp-content/uploads/2020/11/blue-carrot-catering-logo.png
Jane Byrne
2019-03-15 13:39:18
2021-05-24 10:09:32
Creating scrumptious seasonal menus