Question 1: What kind of menus do you offer? You'll find most catering companies offer set menus and buffets, but check what else they can do.
At Blue Carrot Catering we have a whole range of menu options including plated meals, family-style buffets, and our popular BBQ wedding feast complete with marinated meats, fresh fish, organic salads and delicious desserts.
For a wedding menu that's out of the ordinary our BBQ's are a great option.
All this choice means we can create the perfect menu just for you.
One of our picture-perfect plated meals!
Our plated meal option allows you to work with our professional chefs to develop dishes reflecting your own style and personality. And once you've decided what you are going to eat you can choose how your guests can order their meal. One option is to include your menu on the invitations so guests can indicate their choice on their RSVP. . . don't worry, we always include extras for anyone who changes their mind at the last minute!
We also do what's known in the trade as an 'alternate drop' – that's where you have two options for each course which are served alternately to guests.
Personalising your menu is really important to us. We love working with couples who want to incorporate a favourite family dish, or even bring along their own fresh caught crays and pāua. And when a wedding brings two cultures together we work with couples to create innovative fusion menus. This is what makes our work so much fun and our team does a fantastic job of incorporating your specialities into Blue Carrot Catering's fare to deliver amazing, one-of-a-kind wedding menus.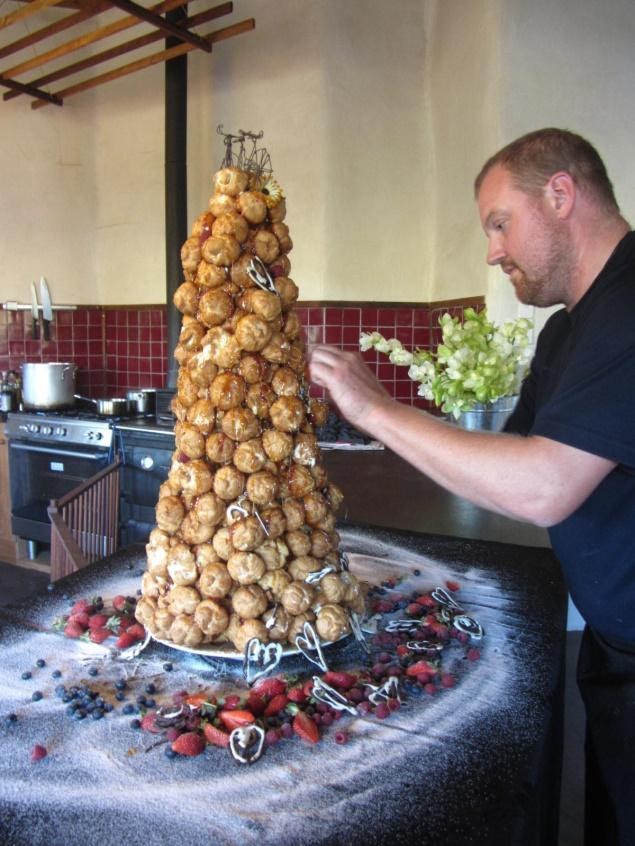 A touch of France – putting the finishing touches to a croquembouche.
Also, remember to check your caterer can provide for guests with special dietary requirements. And don't forget the kids – ask if special meals for the young ones are available.
Question 2: What's the average price range of the menus and how many dishes are included? Planning a wedding is a master-class in budget management. Check the price range of the menu options on offer, ask how many dishes are included in each option, and remember to find out about any extras – for example, are there additional costs for kids' meals or dishes for people with special dietary requirements.
It's really important to choose a catering company like Blue Carrot that has solid experience in event management and wedding planning. Then you can rest easy that you've chosen a company that will work with you to create the wedding you've dreamt of . . . and one that fits your wallet.
We love working with our clients to create a beautiful day.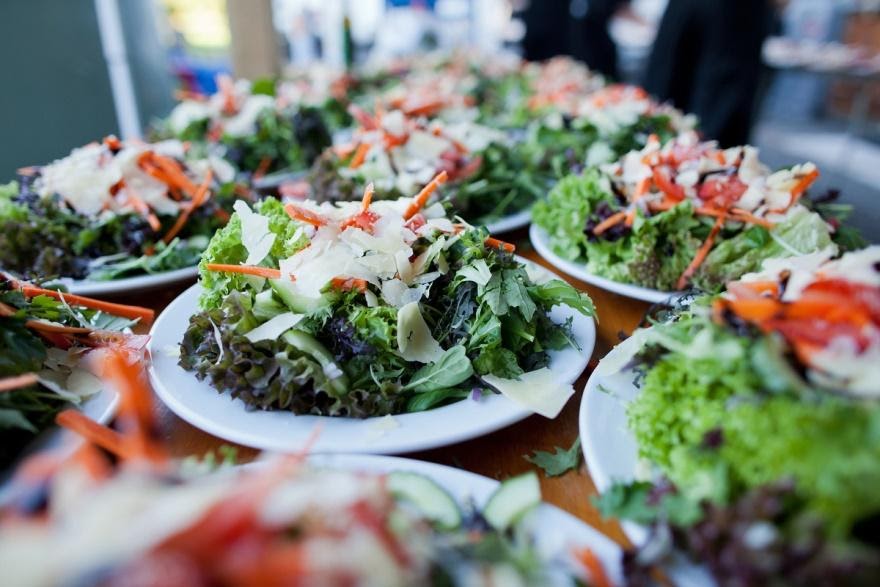 Question 3: Have you ever catered an event at my wedding venue? Nowadays you can hold your reception at all sorts of places; we've catered weddings everywhere you can imagine –  on boats on Wellington harbour, in marquees in people's gardens, in beautiful converted barns, at Wellington Zoo, and at traditional venues like The Boat Shed.
Head Chef Adrian checking the all-important run sheet.
Each place is unique so it's important to ask your caterer:
if they know your venue
when they will need access to the venue
how much time they will need to set up on the day.
I always create a run sheet so everyone knows what will happen, when and where – it takes a lot of the stress out of the day. . . if in doubt, check the schedule!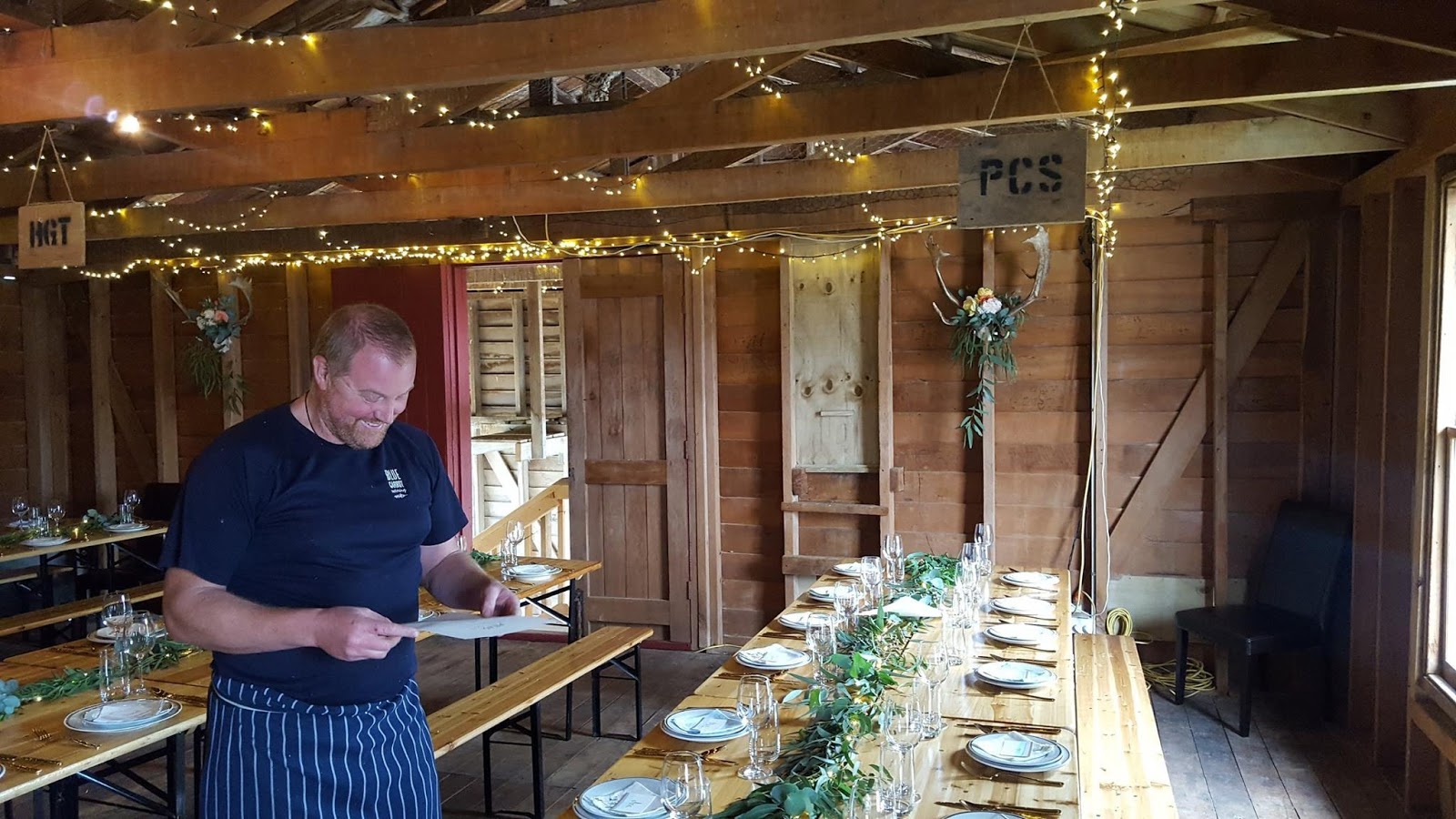 Question 4: Do you have a liquor licence? This is important to check. Choosing a caterer who has a liquor licence means there's one less thing for you to worry about.
At Blue Carrot our licenced bar managers bring everything – including glassware – to your venue. And if you like, they can provide a tray service as well as the bar service. All you have to do is enjoy a Bellini in the summer sun, a cooling glass of Pimms, or the yummy punch our wait staff will whip up for you.
Serving up bubbles and our famous punch.
Question 5: Can we have a tasting before we confirm our menu? And will there be an extra charge for this? Check whether your potential caterer offers this service. You don't want to leave anything to chance – by having a tasting you know exactly what you are going to get on the day. I always enjoy our tastings at Blue Carrot Catering – they are a great way for couples to meet our team and make any tweaks to the menu ahead of time.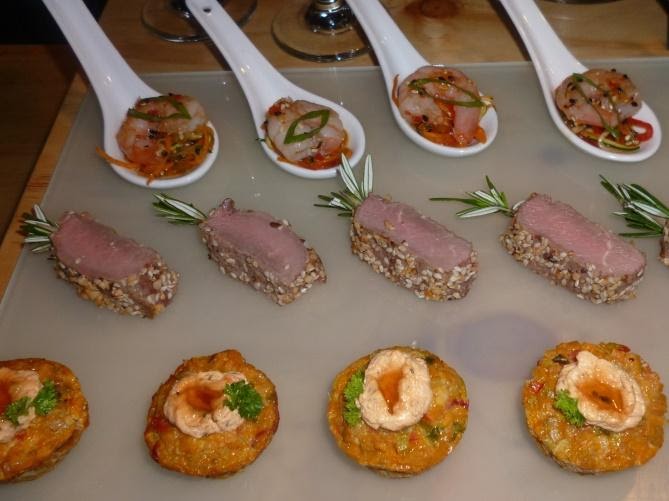 Question 6: Can you provide recent references? I know I said I'd do my top five questions, but I didn't want to go past this one. Do check your caterer can provide references , check out their Facebook page (here's our one!), and look for reviews of the company– these will give you a great insight into the quality of their food and service, as well as the overall experience of working with your caterer.
I hope these tips help in planning your wedding day. As always I'd love to hear your feedback. See you next time for Blog #3.
Nicole x
https://bluecarrot.co.nz/wp-content/uploads/2021/04/image55.jpg
778
1038
Jane Byrne
https://bluecarrot.co.nz/wp-content/uploads/2020/11/blue-carrot-catering-logo.png
Jane Byrne
2017-10-06 14:12:05
2021-05-24 10:09:54
Top tips for finding your perfect wedding caterer